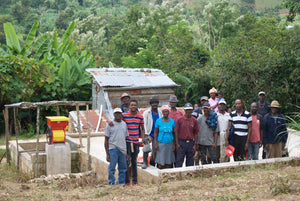 Use left/right arrows to navigate the slideshow or swipe left/right if using a mobile device
Dye mon, gen mon.
Beyond the mountains, more mountains.
Since our adventure to the Caribbean Jewel in 2013 our hearts have been captured by Haiti. The beauty of its landscape and culture is manifested in its warm people, and even more so by its incredible coffee. When we started this company we knew we had to play a part in growing the industry for the country, and so far we've focused on sourcing the best the country has to offer.
15% of every Haitian coffee purchase will be donated to relief efforts in Haiti.
---
Bichard's Savane Zombi
Coffee Estate - Bichard's Savane Zombi 
Coop - APIAB
Location - Savane Zombi Region
Relationship - Direct Trade
Elevation - 1200 M.A.S.L
Process - Washed
Variatel - Typica
Buy Now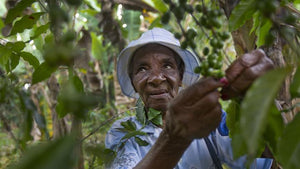 Mare Blanche
Coffee Estate - Mare Blanche
Coop - COOPCAB
Location - Thiotte, Haiti
Relationship - Direct Trade
Elevation - 1400 M.A.S.L
Process - Washed
Variatel - Typica/Blue Mtn
Buy Now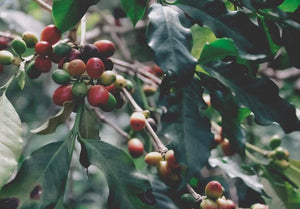 ---
Donate directly to relief in Haiti.
100% of net revenue from this product will be donated to humanitarian organizations on the ground in Haiti. Donations from this product, in addition to funds raised through the purchase of our Haitian Coffee, will be distributed equally for the following initiatives:
Meals: $0.20 / meal
Water Purification: $10 / 100,000 gallons
General Projects: this money will go towards infrastructure, healthcare, and economic development projects to help Haiti recover and rebuild stronger.
Thank you for your donation on behalf of Haiti.
We appreciate your support of our neighbors in the Caribbean Jewel during this crisis. 
For more ways to help, we encourage you to visit Hope for Haiti, CARE, Save the Children or other reputable humanitarian organizations on the front lines of the relief effort.
In the year 1804 Haiti became the first black country in history to gain independence as a nation. After the Haitian revolution ended, they purchased their freedom from France primarily through the sale of Haitian coffee in Europe and the fledgling United States.
Today, in the pine tree covered mountain tops of Haiti a few families struggle to maintain their "creole gardens" where Haitian coffee is shade grown with loving care. These farms remain untouched by modernity which has uniquely preserved the rare heirloom coffee Arabica Typica plants that produce some of the finest and rarest specialty coffee in the world.